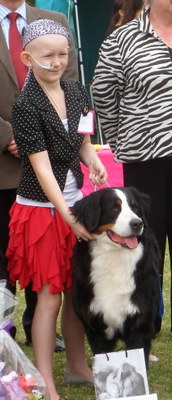 CRITIQUE 1:
JUDGE: Mr Guido Persino (Italy)
13 months, lovely sound bitch of good size, very feminine overall. The 3rd eyelid is not dark and pigmented in any way and eye is slightly reddish, does not give her thest expression at this moment. The iris is light brown colour and the relationship muzzle to skull is very correct with good stop. Muzzle could be less flat at the stop, and stronger underjaw would give her more consistency at the head. Neck is elegant and is well sorted out, shoulder is slightly straight while the pasterns are of good length and very flexible, the chest & breast are correct, slightly long in body, especially at loins but topline is well straight, rears are sufficiently angulated. In the movement the hocks are well parallel, a bit wavey and not stable enough at the shoulder, elbows are a bit waving as well, she has a lovely push at the rears with very nice drive and long, elastic movement on the side, lovely coat and colour.
Soda is still very young and a little roughh around the edges. She loves being groomed and bathed but has a tendency to be unruley and a thief constantly stealing anything she can off the table in particular the girls lollies.